CREDENCE: Collaborative Research of Decentralisation, Electrification, Communications and Economics
Collaborative Research of Decentralisation, Electrification, Communications and Economics (CREDENCE) is a project under the US-Ireland Centre to Centre Research and Development Programme funded by Science Foundation Ireland (SFI), the US National Science Foundation (NSF) and the Department for the Economy (DfE) in Northern Ireland. The project partners include: the SFI Centre for Marine and Renewable Energy in Ireland (MaREI) that is led by University College Cork (UCC) collaborating with the ESRI; the Future Renewable Electric Energy Delivery and Management Systems (FREEDM) NSF Engineering Research Centre in the US; and the Energy Power and Intelligent Control Research Cluster (EPIC) at Queen's University Belfast (QUB). The overarching goal of CREDENCE is to establish a new approach that will transform how we view, challenge and solve our current energy dilemma. Its main objectives are to:
Develop the communication standards for devices to be integrated into systems that will be relied upon for carbon reduction from the energy system.
Assess the impact of the trends of electrification and decentralisation on the power system and discover whether there are optimum levels of decentralisation and electrification in order to achieve certain carbon reduction goals, driving appropriate policy strategies.
Understand and develop the socio-economic mechanisms for migrating to those optimal levels of electrification and decentralisation successfully.
CREDENCE will address these objectives through four collaborative work packages outlined in the graphic below.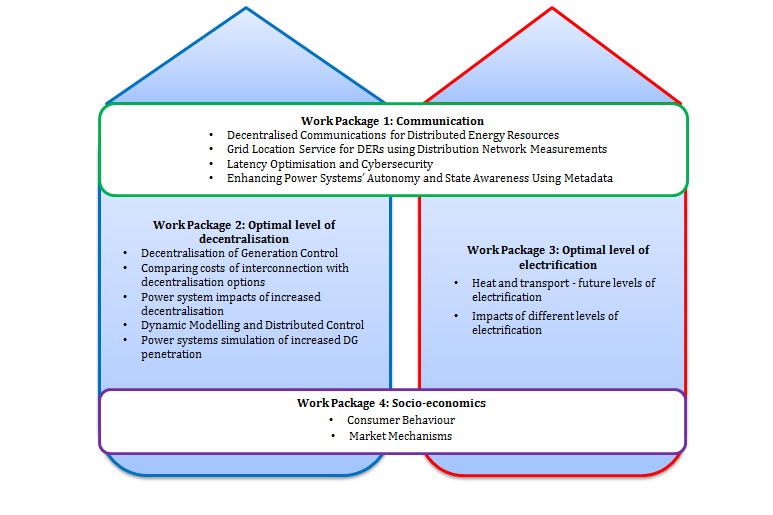 The ESRI leads Work Package 4 on Socio-economics and contributes expertise on economic behavioural analysis focusing on the adoption and use of energy technologies, energy market design and regulation, and the distributional and welfare considerations related to (new) incentive schemes. This work package has two key objectives. First, to investigate how consumer behaviour will affect the adoption and use of new technologies related to the electrification and decentralisation of the electricity system. Second, to use these insights to help develop incentive schemes fostering technology adoption and to develop market mechanisms and tariffs that ensure adopted technologies are used in a desirable way.