Mums go online: Is the internet changing the demand for healthcare?
About the ESRI Seminar Series
The ESRI organises a public seminar series, inviting researchers from both the ESRI and other institutions to present new research on a variety of public policy issues. The seminar series provides access to specialised knowledge and new research methodologies, with the objective of promoting research excellence and facilitating productive dialogue across the policy and research fields.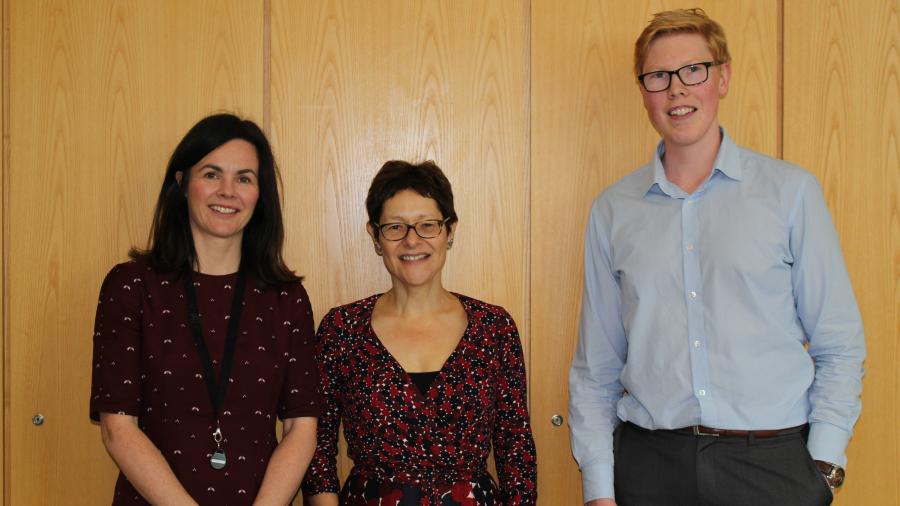 From left: Anne Nolan, ESRI, Carol Propper, Imperial College London, and Brendan Walsh, ESRI.
Guest Speaker: Carol Propper, Professor of Economics at Imperial College London Business School.
Venue: ESRI, Whitaker Square, Sir John Rogerson's Quay, Dublin 2.
Seminar Topic:
We study the effect of internet diffusion on childbirth procedures performed in England between 2000 and 2011. We exploit an identification strategy based on geographical discontinuities in internet diffusion generated by technological factors. We show that broadband internet access increased Caesarean sections: mothers living in areas with better internet access are 1.8 percent more likely to have a C-section than mothers living in areas with worse internet access. The effect is driven by first-time mothers who are 2.5 percent more likely to obtain an elective C-section. The increased C-section rate is not accompanied by changes in healthcare outcomes of mothers and newborns. Therefore, health care costs increased with no corresponding medical benefits for patients. Heterogeneity analysis shows that mothers with low income and low education are those more affected: thanks to the internet, they progressively close the C-section gap with mothers with higher income and education.
Speaker Bio:
Carol Propper is a Professor of Economics at Imperial College London Business School, a Visiting Professor at the University of Melbourne, and a Research Fellow at the Centre for Economic Policy Research (CEPR). Professor Propper's research interests include the impact of incentives on the quality of health care delivery and health system productivity; the design and consequences of incentives within the public sector; and the boundary between the state and private markets. Professor Propper acted as a Senior Economic Advisor to the NHS Executive, was awarded a CBE in 2010 for services to social science, and was elected to the British Academy in 2014. In 2018 she was awarded a European Research Council (ERC) Advanced Grant. She has published work across the areas of health, labour, and inequalities in the American Economic Review, Review of Economic Studies, Journal of Econometrics, Economic Journal, Journal of Health Economics, and the BMJ. Her work has twice been awarded the Kenneth J. Arrow Award for best paper published worldwide on the economics of health by the international Health Economics Association (iHEA).