Contact and Location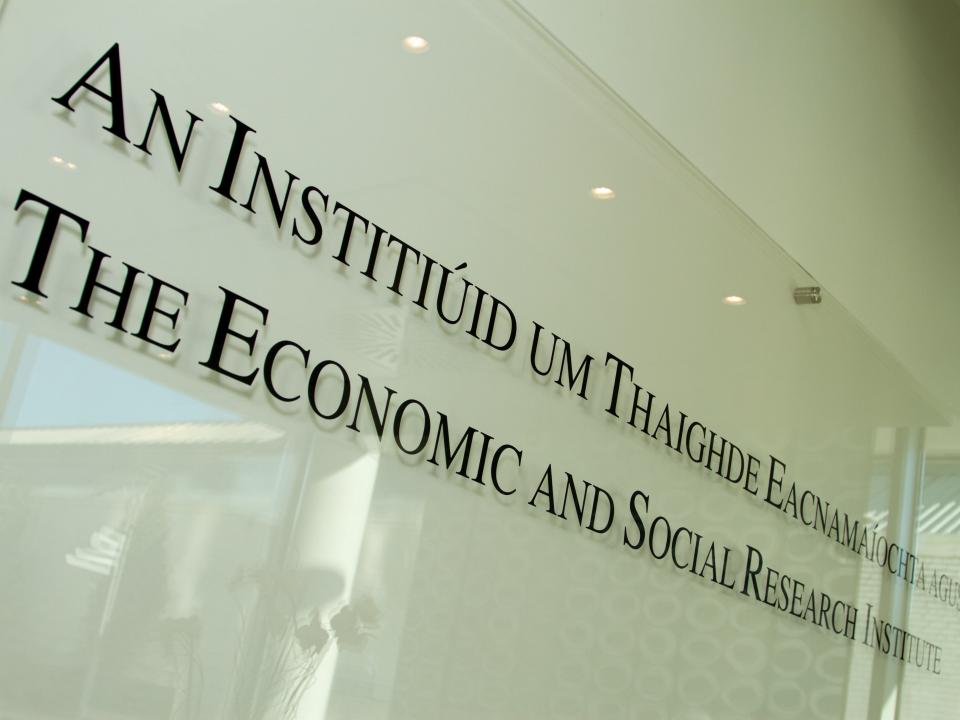 The Economic and Social Research Institute
Whitaker Square
Sir John Rogerson's Quay
Dublin 2
Ireland
D02 K138
Telephone +353 1 8632000
admin@esri.ie
How to find us
The ESRI building is in Whitaker Square - a pedestrian only square off Sir John Rogerson's Quay and Cardiff lane.
Pedestrian entrances to Whitaker Square are as follows:
from Cardiff Lane (beside the Clayton Hotel).

from Sir John Rogerson's Quay (beside the Three Ireland building

)

from Hanover Street East.
Find us on Google Maps. 
Access to Whitaker Square
Ramps are located at the entrance to Whitaker Square from Sir John Rogerson's Quay (beside the Three Ireland building) and from Cardiff Lane (beside the Clayton Hotel). The Hanover Street East entrance has street-level access.
Transport Links
DART: Pearse Station in Westland Row
LUAS (red line): Mayor Square. 
BUSES: Various, along North Wall Quay and Pearse Street.
Dublin Bikes stations: Lime Street (Station 62) and City Quay (Station 99).
Public parking is available in the surrounding streets. Link to Dublin Docklands parking information.
Frequently Asked Questions
The ESRI is open from 9.00am to 5.00pm, Monday to Friday.
An Institiúid um Thaighde Eacnamaíochta agus Sóisialta
The ESRI is not a semi-state organisation.
The ESRI is a not-for-profit economic and social policy research institute. We are fully independent and our work is free of any expressed ideology or political position.
The ESRI is a company limited by guarantee, incorporated in 1960 under the Companies Acts 1908-1959 and registered in Ireland under registration number 18269. The registered office is Whitaker Square, Sir John Rogerson's Quay, Dublin 2.
Visit our Governance and Funding webpages.
With effect from January 1, 2014, the Health Research & Information Division (HRID) at the ESRI transferred to the HSE and became the Healthcare Pricing Office (HPO).
All queries or post should be sent to: Healthcare Pricing Office (HPO), Brunel Building, Heuston South Quarter, St John's Road West, Dublin 8.
Email: info@hpo.ie.
If you are a member of the media and wish to receive embargoed ESRI media releases by email, please email press@esri.ie. Visit our media page. View the latest ESRI media releases and news here.
Sign up for our monthly newsletter, event notifications and publications notifications here.
The ESRI privacy policy is available to read here.
Our job opportunities are published on our Careers page. You can submit an application for any of our current job opportunities or register to be notified about job opportunities. For recruitment related queries please email jobs@esri.ie
Applications for ESRI job opportunities are submitted through the careers portal on our website. Application data are handled strictly in accordance with data protection legislation and retained in line with relevant equality and employment legislation. More information is available in the Privacy Notice for Applicants or by contacting DataProtection@esri.ie
Growing Up in Ireland is a Government-funded study of children being carried out jointly by the ESRI and Trinity College Dublin. Visit our GUI webpage for more details. Contact details are as follows:
Growing Up in Ireland, Economic and Social Research Institute, Whitaker Square, Sir John Rogerson's Quay, Dublin 2.
Tel: +353 1 8632000 | Freephone 1800 200 434 | Email: mailto:growingup@esri.ie| Website: www.esri.ie.
The ESRI's Quarterly Economic Commentary contains forecast national accounts with figures for GNP, GDP, balance of payments, etc.
Subscribe to the QEC or become a Member of the ESRI to receive hard copy issues of the QEC (four per year), plus Ireland's Economic Outlook (published every 2 years). Visit our Membership page for more information.
Other useful links:
The majority of reports and publications by ESRI researchers are available to download from our website free of charge, visit our Publications page for details. Some Journal articles may not be available to download from our website for copyright reasons.
If you are having difficulty finding a particular publication, please contact our publications team at icp@esri.ie or phone the ESRI on +353 1 8632000.
Under Data Protection legislation, individuals have a number of rights in relation to the personal data an organisation holds about them. View the Website Privacy notice to view the personal data processed through this website, how this data is handled and what your rights are. View the Website Cookies notice.